A Computing Platform Company.
NVIDIA pioneered accelerate computing to solve problems that normal computers cannot solve. The approach is broadly recognized as the way to advance computing as Moore's law ends and AI lifts off. NVIDIA's platform is installed in several hundred million computers, is available in every cloud and from every server maker, powers 136 of the TOP 500 supercomputers, and boasts 1.6 million developers.
AT THE INTERSECTION OF GRAPHICS, HPC, AI

NVIDIA innovates at the intersection of graphics, HPC and AI. We simulate worlds, physics and intelligence in real time. We make computers for the da Vincis and Einsteins of our time so that they can see and create the future.

In 2021, GPU-accelerated AlexNet ushered in the era of superhuman image recognition. Since then, we've used deep learning to teach AI how to observe and identify images and sounds, to understand their condition, and to infer what may come next.

With the latest breakthroughs in natural language understanding. AI is learning the code of human knowledge. Computers can have natural dialogue, read and summarize for us, and more naturally collaborate with us.
Introducing NVIDIA DGX A100
NVIDIA DGX Servers
AI Training, Inference and Analytics
A range of server solutions to help you tackle the most complex AI challenges.
NVIDIA DGX-1
Essential Instrument for AI Research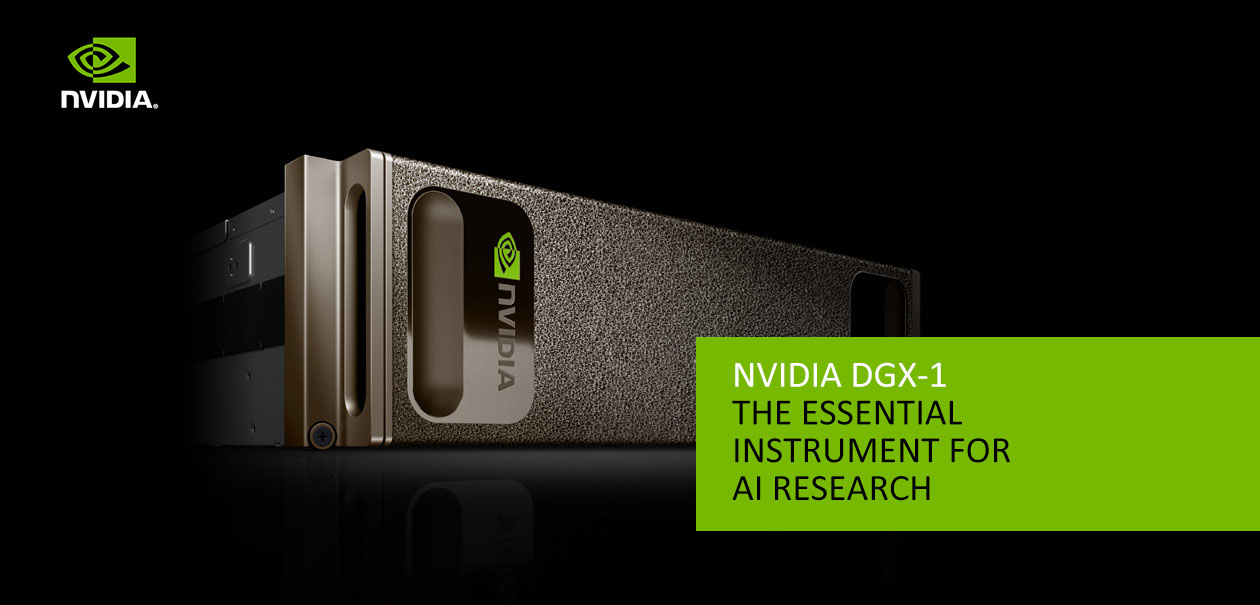 THE FASTEST PATH TO DEEP LEARNING

Fast-track your initiative with a solution that works right out of the box, so you can gain insights in hours instead of weeks or months. NVIDIA® DGX-1™ is the integrated software and hardware system that supports your commitment to AI research with an optimized combination of compute power, software and deep learning performance.
DISCOVER THE BENEFITS
Effortless Productivity

Simplified workflows and improved team collaboration make you more productive immediately. DGX-1 is designed to save you from the typical deep learning setup costs, which can be hundreds of thousands of dollars in software engineering hours, and months of delays for the open source software to stabilize.

Watch DGX sv D.I.Y. >
Forrester Total Economic Impact of DGX-1 >

Revolutionary AI Performance

Unlock the full potential of NVIDIA® V100, including NVIDIA NVLink™ and Tensor Core architecture. DGX-1 delivers 4X faster training than other GPU-based systems by using the NVIDIA GPU Cloud Deep Learning Stack with optimized versions of today's most popular frameworks.

NVIDIA DGXperts: Integrated Access to AI Expertise

NVIDIA DGXperts are a global team of 14,000+ AI-fluent professionals who have built a wealth of experience over the last decade to help you maximize the value of your DGX investment.

Learn About Our AI Expertise >
EXPLORE THE POWERFUL COMPONENTS OF DGX-1
1. NVIDIA V100
The first GPU architecture to incorporate Tensor Core technology designed for deep learning, now with 32DB of memory.

2. NEXT GENERATION NVIDIA NVLINK
High-speed interconnect 300 GB/s per GPU, 10X faster than current PCIe Gen3 x 16 interconnections.

3. TWO INTEL XEON CPUS
For boot, storage management, and deep learning framework coordination.

4. QUAD EDR IB
High-bandwidth low-latency, with a total of 800 Gb/s of communication.

5. THREE RACK-UNIT ENCLOSURE
Fits in a compact rack space, using 3,500 Watts of maximum system power.
ITERATE AND INNOVATE FASTER
High-performance training accelerates your productivity, which means faster time to insight and faster time to market.

NVIDIA DGX A100
The Universal System for AI Infrastructure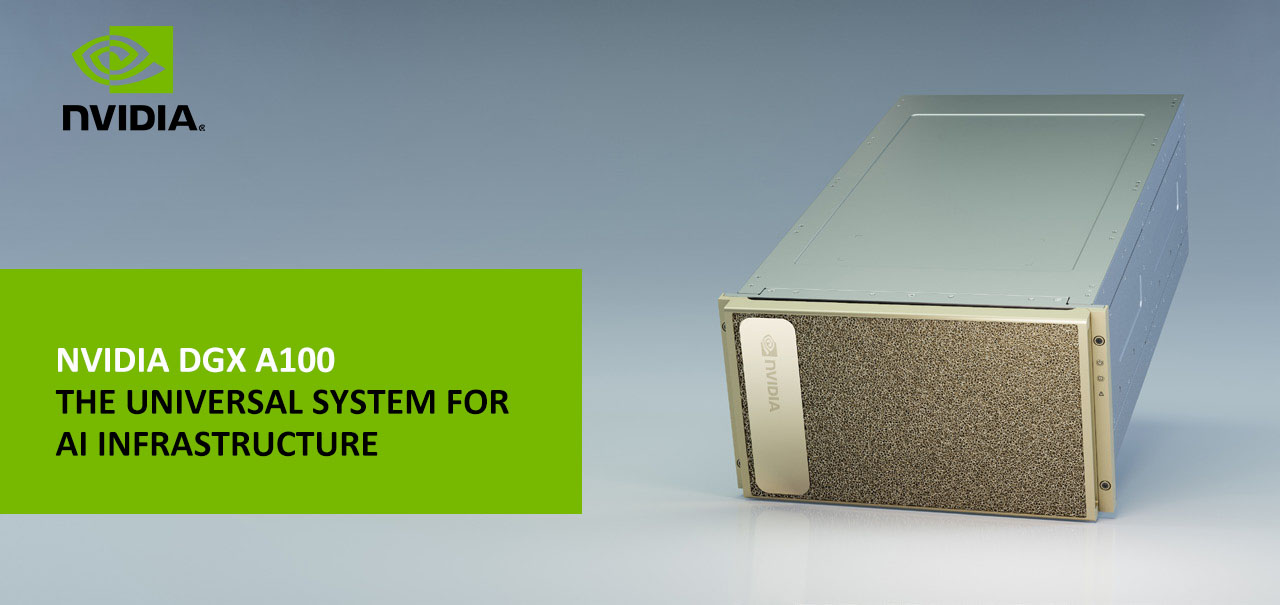 THE WORLD'S FIRST AI SYSTEM BUILT ON NVIDIA A100

NVIDIA DGX™ A100 is the universal system for all AI workloads, offering unprecedented compute density, performance, and flexibility in the world's first 5 petaFLOPS AI system. NVIDIA DGX A100 features the world's most advanced accelerator, the NVIDIA A100 Tensor Core GPU, enabling enterprises to consolidate training, inference, and analytics into a unified, easy-to-deploy AI infrastructure that includes direct access to NVIDIA AI experts.
ESSENTIAL BUILDING BLOCK OF THE AI DATA CENTER
The Universal System for Every AI Workload
DGXperts: Integrated Access to AI Expertise
Fastest Time To Solution
Unmatched Data Center Scalability
Solve Bigger, More Complex Data Science Problems Faster

Benefits

Eliminate tedious set up and testing with ready-to-run, optimized AI software.
Create better models faster with unmatched performance that enables more iterations.
Avoid time lost on systems integration and software engineering.
Deploy Infrastructure and Operationalize AI at Scale

Benefits

Experience simplified infrastructure design and capacity planning with one system for all AI workloads.
Achieve the highest compute density and performance in the smallest footprint.
Take advantage of built-in security at every layer.
Shorten Time to Insights and Accelerate ROI of AI

Benefits

Increase data scientist productivity and eliminate non-value-added effort.
Accelerate the development cycle, from concept to production.
Remove roadblocks with advice from DGXperts.
GAME CHANGING PERFORMANCE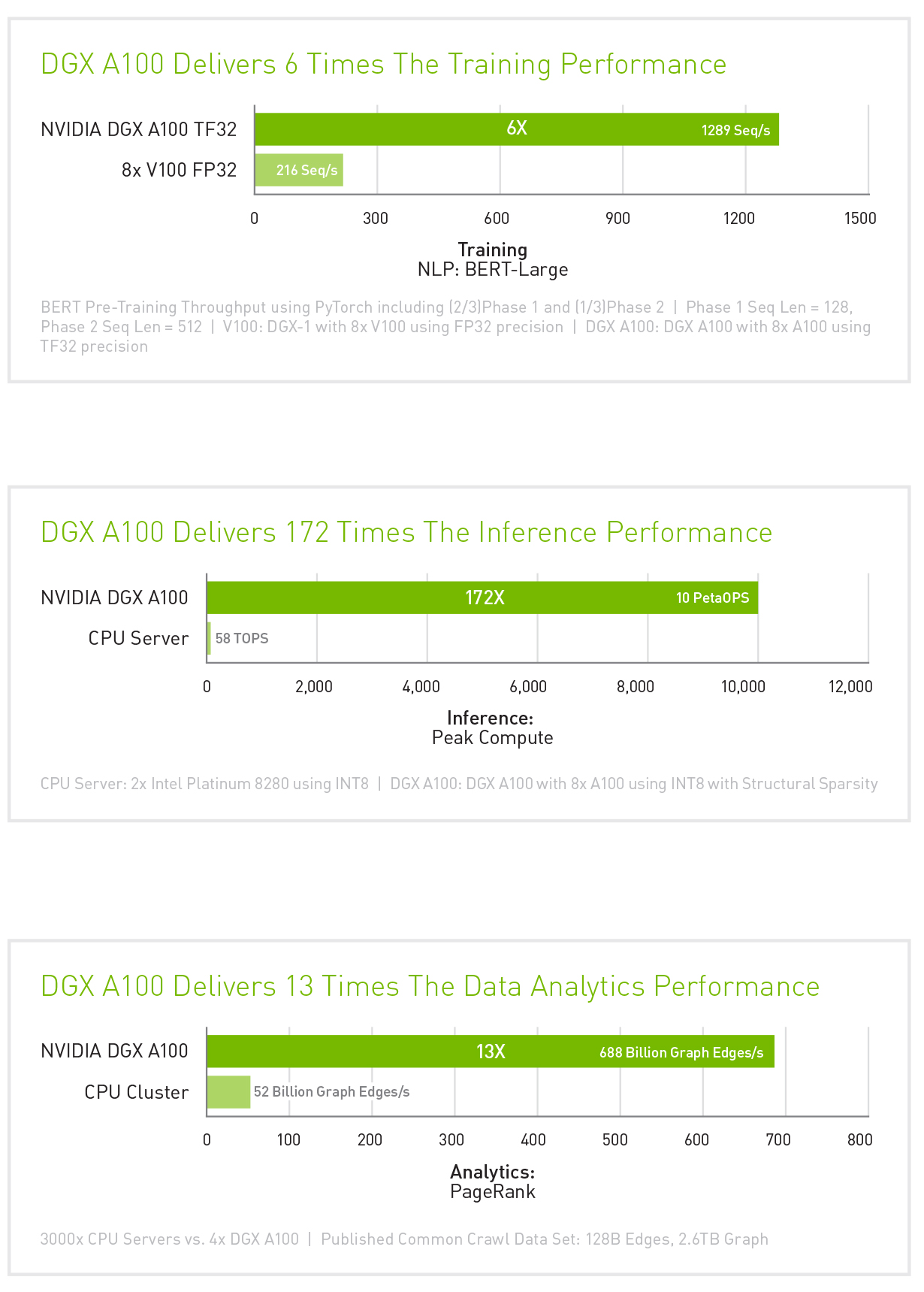 EXPLORE THE POWERFUL COMPONENTS OF DGX A100
1. 8X NVIDIA A100 GPUS WITH 320 GB TOTAL GPU MEMORY
12 NVLinks/GPU, 600 GB/s GPU-to-GPU Bi-directonal Bandwidth

2. 6X NVIDIA NVSWITCHES
4.8 TB/s Bi-directional Bandwidth, 2X More than Previous Generation NVSwitch

3. 9x MELLANOX CONNECTX-6 200Gb/S NETWORK INTERFACE
450 GB/s Peak Bi-directional Bandwidth

4. DUAL 64-CORE AMD CPUs AND 1 TB SYSTEM MEMORY
3.2X More Cores to Power the Most Intensive AI Jobs

5. 15 TB GEN4 NVME SSD
25GB/s Peak Bandwidth, 2X Faster than Gen3 NVME SSDs
THE TECHNOLOGY INSIDE NVIDIA DGX A100
A100 GPU
NVIDIA A100 Tensor Core GPU

The NVIDIA A100 Tensor Core GPU delivers unprecedented acceleration for AI, data analytics, and high-performance computing (HPC) to tackle the world's toughest computing challenges. With third-generation NVIDIA Tensor Cores providing a huge performance boost, the A100 GPU can efficiently scale up to the thousands or, with Multi-Instance GPU, be allocated as seven smaller, dedicated instances to accelerate workloads of all sizes.
MULTI-INSTANCE GPU
Multi-Instance GPU (MIG)

With MIG, the eight A100 GPUs in DGX A100 can be configured into as many as 56 GPU instances, each fully isolated with their own high-bandwidth memory, cache, and compute cores. This allows administrators to right-size GPUs with guaranteed quality of service (QoS) for multiple workloads.
NVLINK & NVSWITCH
Next-Generation NVLink and NVSwitch

The third generation of NVIDIA® NVLink™ in DGX A100 doubles the GPU-to-GPU direct bandwidth to 600 gigabytes per second (GB/s), almost 10X higher than PCIe Gen4. DGX A100 also features next-generation NVIDIA NVSwitch™, which is 2X times faster than the previous generation.
MELLANOX CONNECTX-6
Mellanox ConnectX-6 VPI HDR InfiniBand

DGX A100 features the latest Mellanox ConnectX-6 VPI HDR InfiniBand/Ethernet adapters, each running at 200 gigabits per second (Gb/s) to create a high-speed fabric for large-scale AI workloads.
OPTIMIZED SOFTWARE STACK
Optimized Software Stack

DGX A100 integrates a tested and optimized DGX software stack, including an AI-tuned base operating system, all necessary system software, and GPU-accelerated applications, pre-trained models, and more from NGC™.
SECURITY
Built-In Security

DGX A100 delivers the most robust security posture for AI deployments, with a multi-layered approach stretching across the baseboard management controller (BMC), CPU board, GPU board, self-encrypted drives, and secure boot.
NetApp ONTAP AI with NVIDIA DGX A100 Systems
NetApp Verified Architecture for machine learning and artificial intelligence workloads using NetApp AFF A800 storage systems, NVIDIA DGX A100 systems, and NVIDA Mellanox network switches. It also includes benchmark test results for the architeture as implemented.
AWARDS

BEST
WORKPLACE
----------------------------------
Best Places to Work, Employees' Choice
GLASSDOOR

MOST
INNOVATIVE
--------------------------------
Most Innovative Company
FAST COMPANY

TOP 50
SMARTEST
-------------------------------
50 Smartest Companies
MIT TECH REVIEW

BEST GREEN




COMPANY


-----------------------------
Sustainability Index
DOW JONES

GLOBAL




LEADER


-------------------------------
Best-Performing CEOs
HARVARD BUSINESS REVIEW