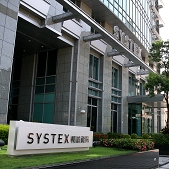 Founded in 1997, SYSTEX Corporation (TSE ID: 6214) is the No.1 Taiwan-based IT services provider in the Asia-Pacific region with 2,800 employees and 48 branch offices in Taiwan, China, Hong Kong and Southeast Asia, and is working toward to the goal of being "the best IT service partner for enterprises in greater China area". In 2010, SYSTEX's consolidated revenues reached US$ 444 million.
As ranked 1st software service provider in Taiwan for five consecutive years and the most profitable of its kind amongst the top 500 operations in the services industry, as published in the May 5th, 2011 issue of the Taiwan's leading business magazine Common Wealth Magazine. SYSTEX is also the only one Taiwan-based system integration enterprise listed for three consecutive years in the special report "Ranking of 1,000 companies across China, Hong Kong, and Taiwan" published in the May 19th, 2010 issue of the Common Wealth Magazine.
Solid Technical Team with Strong Domain Knowledge Provides Professional Services
As a provider of professional "technology services, systems integration services, and outsourcing services", SYSTEX delivers comprehensive IT applications and infrastructure solutions with the capabilities of international project management and software development and integration. Initially focused on the financial industry during its first decade of existence, SYSTEX has now expanded its competency footprint to the telecommunications, manufacturing industry, medical care industry, government and logistics sectors, and moved to the overseas markets.
SYSTEX has offered professional IT services for over 40,000 enterprise and government clients, with the strength of distribution for more than 50 world class of hardware and software products and solutions, over 900 channel partners, and 1,600 technical talents with solid domain knowledge, SYSTEX is able to provide in time professional services and assistance towards to clients.
Three Major Business Integrations and Two Business Units to Provide Customers Comprehensive IT Solutions
SYSTEX is organized along with three business integrations and two business units: Financial Business Integration (FBI), Technological Business Integration (TBI), Outsourcing Business Integration (OBI), Commercial Software Business Unit, and Knowledge Product Business Unit.

In the Financial Business Integration, its complete financial contents and information service offers institution clients and investors a full line of business application software and solutions for information, trading, operations and management, finance, wealth management, risk management, banking and insurance, etc.


In the Technological Business Integration, The mission of "Technological Business Integration" (TBI) is to provide enterprise with the best information services and become their prioritized partner. TBI looks after both growth and savings, allows easy access to world class products and services, providing enterprises with ICT structure design, deployment and management solutions. Facilitates the transformation of data centers, utilizing virtualization and green IT technology along with cloud computing solution to help enterprises achieve the goal of "Invest for Saving".


In the Outsourcing Business Integration, To provide clients with high value IT outsourcing services, "Outsourcing Business Integration" (OBI) maintains a professional service team with over 20 years of technical service and system integration experience. They are experts in fields of IT equipment maintenance, network value added service, statement printing, e-payment applications as well as development of e-government system applications. With a professional customer service center, and a high quality data center, OBI is the best strategic partner in helping corporate clients pursue effectiveness of their overall operations and IT maintenance enhancement.


In the Commercial Software Business Unit, Customized planning to offer corporations the most advantageous software procurement options by providing clients with large quantities of authorized legal enterprise software and procurement planning service, various software sales and related technical support service, and fulfilling client's needs for centralized procurement, flexible licensing and spread payments methods. Allow enterprise customers to lower procurement costs and enhance management flexibility.


In the Knowledge Product Business Unit, Long time commitment in the fields of IT and multimedia education and training, providing full range of specialized information education and training courses, digital online learning, publications and commercial knowledge solutions, etc. Holds certifications from international software vendors including Microsoft, Cisco, Oracle, SUN Microsystems, Red Hat, Trend Micro, SGS, ITpreneurs, (ISC)2, PMI, Autodesk, Adobe, etc. It is the technical education and training center within pan Asia and Taiwan certified by the most international software corporations.
Lasting Efforts Towards to Quality Improvement for Growth
In line with its continuous improvement of quality and enhancement of global competitiveness, SYSTEX's Data Management and Integration Service (DMIS) BU in OBI has received the BS 25999 certification, which makes the first Taiwan company to get this certification. DMIS BU and SYSTEX dedicated data center both certified to ISO 27001 international information security standard to provide a secured and reliable mainframe operating environment around the clock, 365 days a year.
SYSTEX has passed the CMMI Level 3 accreditation, making it the first Taiwan-based IT services provider to pass the CMMI accreditation in the realms of e-business and finance. As the domestic enterprise with the most certified project managers, SYSTEX has over 80 certified PMP's and CPMP's. Moreover, SYSTEX also takes pride in its team of 50 ITIL-certified professionals and over 400 IT engineers with multiple specialization qualifications who have received over one thousand international level specialization/management certifications, thereby enabling world-class cutting-edge IT service and the undertaking of big international projects.
Creating Our Clients' Value with Innovation and Performance
In the future, SYSTEX will continue to help customers create success and share with them the growth and win-win benefits with superior IT applications, service capacity, industrial knowledge and practical experience by exemplifying its service spirit: integrity and innovation, performance and profit, and customer value creation.
D-U-N-S number:657230454