Netskope're Redefining Cloud, Network, and Data Security.
Netskope is the only security vendor that accelerates your digital transformation journey with a proven security platform that is data-centric, cloud-smart, and as fast as your business. Netskope is redefining cloud, network, and data security, empowering security teams with the right balance of protection and speed they need to secure their organization's digital transformation journey.
Netskope named a leader in Gartner Magic Quadrant for Cloud Access Security Brokers

Third consecutive year recognized as leader positioned furthest for "completeness of vision".

Recognized as a leader in several MQ Critical Capabilities, including Data Loss Prevention (DLP), Adaptive Access Control (AAC) and Cloud Security Posture Management (CSPM), confirming the unique data-centric, cloud-smart benefits of the Netskope Security Cloud Platform.
Netskope Security Cloud Platform
Data-centric. Cloud-smart. Fast.
Top Use Cases at a Glance
Discover SaaS, IaaS, and web use details and assess risk
Secure your managed cloud services such as Office 365, G Suite, Box, and AWS
Safely enable unmanaged, business-led cloud services instead of being forced to block them
Govern cloud and web use for users onpremises, mobile, and remote
Guard sensitive data with award-winning DLP
Stop elusive cloud threats and malware
The Netskope Security Cloud Platform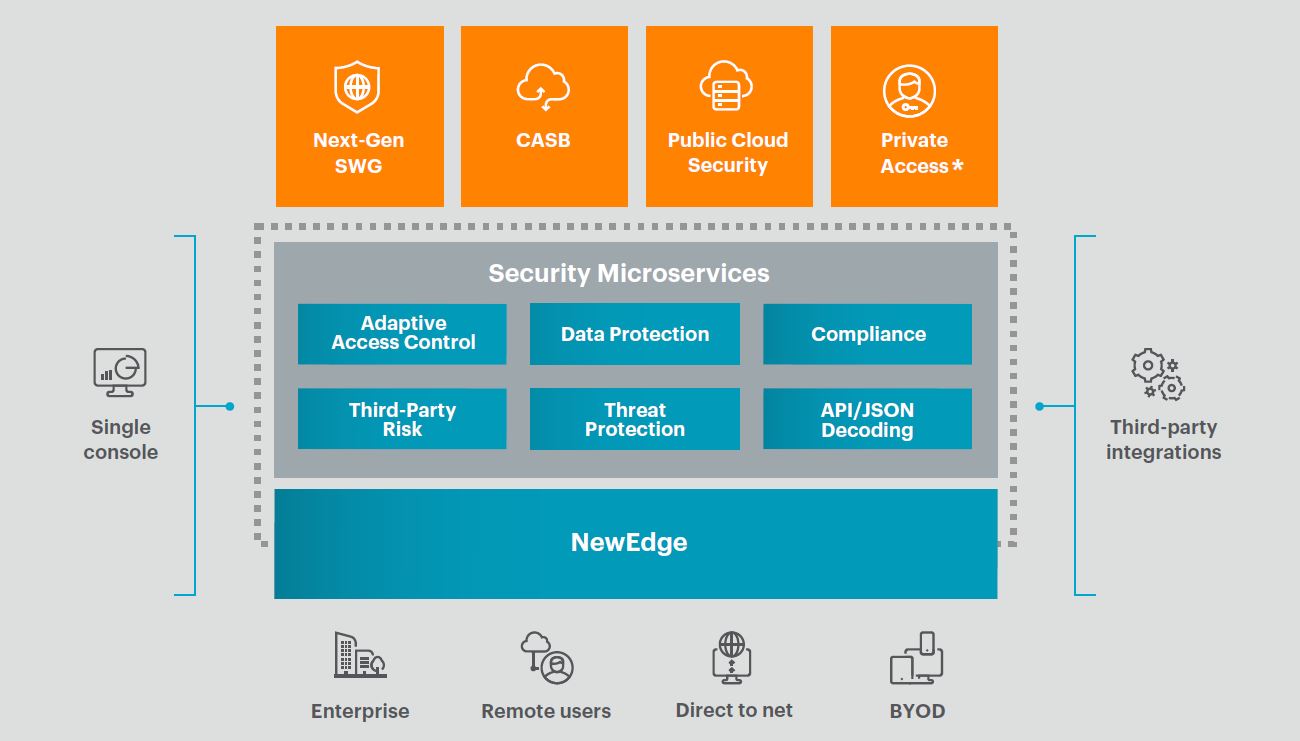 Data-centric

Netskope takes a 360 degree data-centric approach to cloud security, protecting data and users everywhere using award-winning DLP and encryption.
Cloud-smart

Netskope Cloud XD™ understands SaaS, IaaS, and web in extreme definition to monitor all cloud activity, eliminate blind spots and stop elusive attacks and malware.
Fast

Netskope gives you optimal performance and responsiveness. Delivered through the NewEdge infrastructure, you benefit from one of the world's largest, high performance networks to protect your environment.
Netskope Data Loss Prevention
Inspect and control activities that attemptto move sensitive data between endpointsand cloud and web services
Discover and protect your sensitivedata when at rest in managed cloudapplications
Create policies using advanced data losscapabilities such as fingerprinting, exactdata match, optical character recognition(OCR), and image classification
Respond quickly to data loss prevention(DLP) violations and take advantage ofincident management tools for detailedinvestigation
Netskope Standard DLP
Netskope DLP unifies data protection policies across real-time inspection of cloud and web traffic, and inspection of data at rest in managed cloud applications. Netskope DLP can inspect the metadata and content of more than 1,000 file types, and examine both structured and unstructured data.
Netskope Advanced DLP
Netskope Advanced DLP is sold as a supplemental license to Standard DLP and provides additional capabilities designed to meet the needs of enterprises with more sophisticated data protection requirements.
Netskope DLP Policy Overview

COMPLIANCE
Whether you need to comply with mandates such as HIPAA, GDPR, GLBA, PCI/DSS, or another regimen, Netskope has you covered so you can pass audits and avoid fines. With Netskope, you can construct activity audit trails, create summary compliance reports, protect sensitive data with strong encryption, and manage data incidents.
PREVENT DATA LOSS
Netskope provides a unique vantage point across all of your internet usage, both cloud applications and websites, to help you detect data movement that could signal a data exfiltration attempt by an insider. Netskope anomaly detection combined with DLP capabilities can correlate the download of sensitive data from a managed cloud service like Salesforce or Box with the upload of the same data to a personal cloud service.
SECURE DATA
Uncover sensitive content using predefined (or custom) profiles for payment card industry data (PCI), protected health information (PHI), and many more. Protect with automated workflows to block, quarantine, or encrypt your data. With Netskope DLP, you can identify and secure all sensitive data in the cloud, whether it's in transit to and from a cloud service or already resident in a managed cloud service like Box or Office 365 OneDrive.
DATA VISIBILITY
Whether it's to satisfy audit requirements, regulatory compliance, or just corporate security policies, it's important to understand where your most sensitive data is flowing and how it's being used. Netskope can identify your sensitive data flowing to the cloud, or at rest within your managed cloud applications, or being uploaded to websites. Netskope has comprehensive visibility of all user activity on cloud and web, and this allows DLP violations to be detected whether users are on premises or remote, and whether using a web browser, mobile app, or sync client.
Top Use Cases at a Glance
Provide remote users with secure zero trust access to authorized applications, not your entire network
Deliver a seamless end user experience for accessing applications in public clouds and data center environments
Provide employees with remote access to apps in the public cloud without needing to expose them publicly
Retire inefficient and complex VPN routing architectures used to access applications in public cloud
Combine Private Access with the wider Netskope Security Platform and extend security to cloud apps and web, using a single transparent client
Netskope Private Access
NETSKOPE PRIVATE ACCESS BENEFITS
Zero Trust Network Acces
ZTNA gives employees access to applications, not the network. This protects private applications and other network assets from malicious insiders or compromised accounts. NPA has application-level access policies, which are strictly controlled by user or group identity, and the security posture of remote devices.
Optimized and Direct End User Experience
NPA connects remote users directly to applications hosted in public cloud and private data centers using NewEdge - a high-performance, scalable global network infrastructure. Netskope offers an always-on end user remote access experience and avoids backhauling (or hairpinning) remote users through the corporate network to access applications in public cloud environments.
Secure Access to Public Cloud Applications
If applications in public cloud environments are exposed publicly to allow remote access for employees then there is an increased risk of compromise through unauthorized access. Avoid the brand damage, fines, or remediation costs associated with a breach—deploy NPA to provide employees with remote access without needing to expose apps publicly.
Begin your network and security transformation
The Netskope cloud-native architecture ensures scale, agility and elasticity and provides a single administrative console for simplified security policies, analytics, and incident investigation for employee use of web, cloud, and private applications. Netskope takes you to the cloud-based future of network security, combining ZTNA with Secure Web Gateway (SWG) and Cloud Access Security Broker (CASB), and aligning with the Gartner-defined Secure Access Service Edge (SASE) architecture—www.netskope.com/about-sase.


Uncover and protect sensitive content stored in your cloud services
Inventory content and users
Perform a variety of actions such as revoke access, quarantine, and encrypt
Simple and frictionless out-of-band deployment
API Protection Supported Cloud Services
API (near Real Time Protection)